2017-04-27 14:46:30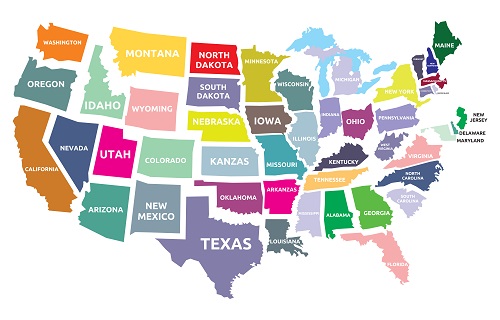 Here's our monthly roundup of manufacturing expansions, mergers, and acquisitions by state. Don't see your state? Send your expansion, merger, and acquisition news to editor@mfrtech.com to be included in next month's round-up.
Georgia
Genuine Parts Company's (NYSE: GPC) Electrical/Electronic Materials Group acquired Empire Wire and Supply. Empire, headquartered in Rochester Hills, Michigan, is an innovative provider of custom cable assemblies and distributor of network, electrical, automation and safety products.
Illinois
Chicago-based Flack Global Metals and Cleveland, Ohio-based Kenwood Painted Metals have merged. Flack designs and fulfills supply chains for OEMs using flat rolled steel, aluminum and stainless. Kenwood specializes in painted metals.
Indiana
Crown Equipment Corporation, one of the world's largest material handling companies, will expand its operations in Greencastle, adding a second facility and creating up to 100 new jobs by 2021. The Ohio-based company will lease and equip a facility at 2301 State Route 240 in Greencastle, which is located across the street from its current manufacturing plant. The new facility is scheduled to begin operations later this year, expanding the company's total footprint in Putnam County and providing additional manufacturing resources to support the company's global growth.
BeijingWest Industries, Co. Ltd. (BWI), a chassis supplier that designs and manufactures brake and suspension systems for the global automotive market, plans to locate its first U.S. production facility in Indiana, creating up to 441 new, high-wage jobs by 2021. The Beijing-headquartered company will invest more than $80 million to build and equip a new 276,514-square-foot manufacturing facility in Greenfield's Progress Park.
Kentucky
Braidy Industries Inc. will build a $1.3 billion aluminum mill and create 550 advanced manufacturing jobs in Greenup County to produce sheet and plate for the automotive and aerospace industries. The company will construct a 2.5 million square-foot aluminium mill on more than 300 acres near South Shore in Greenup County. The company expects construction to begin in early 2018 with completion in 2020. Construction will create about 1,000 jobs.
Toyota Motor Manufacturing Kentucky Inc. (TMMK) will undergo a $1.33 billion rebirth to increase manufacturing flexibility and shorten model changeover times in its Georgetown facility. Across the next few years, the rebirth project will replace or refurbish equipment and add new technology in multiple manufacturing areas, including stamping, body weld, paint, plastics, assembly and powertrain. As well, a new paint shop will be constructed – adding to TMMK's square footage – and fitted with new equipment and technology.
Aluminum parts manufacturer UACJ Automotive Whitehall Industries (UWH) will expand its Paducah facility with a more than $3.3 million investment, creating up to 50 full-time jobs. The 56,000 square-foot expansion will provide space for new machining centers, robotics and additional fabrication equipment.
Michigan
American Axle & Manufacturing Holdings, Inc., (NYSE: AXL) acquired Metaldyne Performance Group Inc.
Ford Motor Company will invest approximately $2 billion in its Flat Rock, Wayne and Romeo facilities. As part of the agreement, Ford will create approximately 700 jobs at its Flat Rock Assembly Plant and approximately 100 new jobs at Romeo Engine Plant, while securing approximately 3,600 jobs at its Michigan Assembly Plant in Wayne.
North Carolina
As global demand for its robotic end-effectors continues, ATI Industrial Automation broke ground on the expansion of its corporate and manufacturing headquarters in Apex. This expansion–the largest in ATI's 28-year history–will increase the size of its Apex facility to 185,000 square feet.
Ohio
The Timken Company, a manufacturer of bearings and mechanical power transmission products, acquired Torsion Control Products, Inc., a manufacturer of engineered torsional couplings used in the construction, agriculture and mining industries.
Tennessee
4M Industrial Oxidation, LLC ("4M"), a Knoxville, Tennesee-based carbon-fiber technology company finished its reverse merger with Woodland Holdings Corp., an SEC reporting company. 4M has become a wholly-owned subsidiary of Woodland, through which Woodland will conduct its business operations.
Rockline Industries, a consumer goods manufacturer and supplier, will form a new subsidiary, Iatric Manufacturing Solutions, and locate a new facility in Hamblen County. Rockline and Iatric Manufacturing will invest $40.3 million and create approximately 250 new jobs in Morristown.
Texas
Urban Mining Company has selected San Marcos, Texas as the location of its new, state-of-the-art rare earth magnet manufacturing facility and headquarters. The 100,000 square foot facility will be constructed on 10 acres and adds more than 100 advanced manufacturing and technology jobs to San Marcos and Hays County over the terms of the agreements. Rare earth magnets are critical components used in high-tech industrial, automotive, clean energy, and military-defense applications.
Virginia
Pryor Technology Inc., a provider of marking, identification and traceability solutions, has opened a new dedicated one-stop-shop sales and service center in Richmond, Virginia. The move will enable the company to further enhance its service to customers and meet growing demand for its advanced manufacturing solutions.