2018-09-23 18:10:55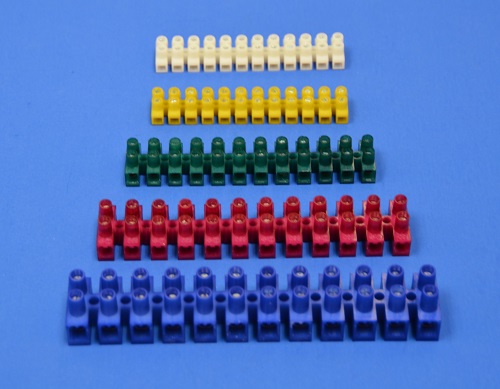 BlockMaster Electronics, a supplier of terminal blocks for electrical and electronic distribution, introduces a new addition to its popular "Jelly Beans®" line of colorful terminal blocks. The new EuroStyle PA Series features nylon terminal blocks in multiple colors for ease in identifying terminations and preventing costly field wiring mistakes.
Inadvertently terminating the wrong wire to the wrong terminal can be a costly and hazardous mistake, damaging PC boards, components, etc., and creating safety hazards. Low voltage and line voltage connections can easily be mixed up, especially by inexperienced installers. Unfortunately, this happens all too often in the field. However, BlockMaster has created an innovative solution to prevent such mishaps. The new EuroStyle Jelly Bean® PA Series can eliminate this problem for installers by using color-coded terminal blocks. For example, line input 120/220 connections can be made to a white block, while low voltage connections can be made to a green terminal block. If more than one type of low voltage control is necessary, other colors can be used.
In addition to color coding, BlockMaster offers screen printing to mark alphanumeric characters on its PA Series terminal blocks to further simplify field wiring. The PA Series provides a simple and effective means of differentiating field wiring connections by color, custom legends or both.
The PA Series terminal blocks are molded of sturdy nylon, and offered in 8mm, 10mm, 12mm and 14mm sizes (centers). They are available in white, red, blue, green and yellow colors. The blocks accommodate 8AWG to 22AWG wire. Wire guards are standard on all blocks; captive screws are included.
The four sizes available provide for:
Current ratings @ 600V from 17.5A to 41A, or 35A @ 300V

Centerline spacing of 8mm, 10mm, 12mm and 14mm

Wire sections from 1.5mm2 to 10 mm2

Wire hole sizes of 2.9mm to 5.0mm

Mounting hole sizes of 2.9mm to 4.4mm

2 through 12 poles
The block housing is Polyamide 6,6 (UL94V-2) and the terminal is made of a tin-plated zinc alloy. Temperature range is -35°C to +105°C.
www.blockmaster.com
847-956-1680