2016-05-02 21:53:49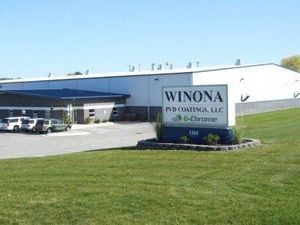 WARSAW, Ind. – Winona PVD Coatings LLC, a provider of bright finish coatings for the automotive wheel industry, announced plans today to expand its operations here, creating up to 50 new jobs by the end of 2016.

Winona PVD will invest more than $10 million in high-tech equipment and machinery in order to add a new production line and enhance the company's clean room at its manufacturing complex in Warsaw. The new line will be housed in the company's newest 83,000-square-foot building, marking Winona PVD's third expansion since its establishment in 2007. The company began in one 66,000-square-foot facility and now operates in three buildings with a 320,000-square-foot footprint. Winona PVD currently coats more than 1 million wheels per year using its non-hazardous G-Chrome® finish, and expects to increase production capabilities by 30 percent with this latest expansion.

Winona PVD currently employs 155 associates in Indiana, and plans to begin hiring for quality, production, supervision and maintenance positions this summer. Interested applicants can apply in person at the company's Warsaw headquarters.

"We are extremely pleased with how our high-tech coating is accepted and sought after in the automotive industry as the preferred green alternative to traditional chrome wheels," said Scott Dahl, chief executive officer of Winona PVD. "We are choosing to expand our operations here because of the support received from the state and the local community as well as the high-quality, talented workforce."

Headquartered in Warsaw, Winona PVD uses a state-of-the-art physical vapor deposition (PVD) process frequently used in the orthopedics industry as a substitute for the chrome plating process. It is the first large-scale, North American PVD coating facility for wheels, providing an environmentally-friendly substitute to traditional chrome plating. The company serves both original equipment manufacturers and aftermarket suppliers across the globe.

For more information about Winona PVD Coatings, visit www.g-chrome.com.
Photo source: Winona PVD Coatings