2016-09-24 01:06:12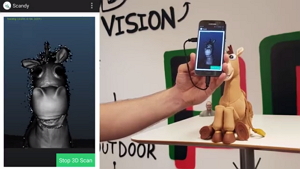 You can soon 3-D scan any prototype or product with only a consumer mobile phone and an attached 3D sensor, thanks to the new Scandy Pro app for Android. The new app is a product of Scandy, a maker of mobile 3D scan and 3D print technology, and pmdtechnologies (pmd), a maker of 3D time-of-flight sensors.
Scandy Pro empowers users to create detailed 3D scans from an Android device in real time. Scandy Pro captures features as small as 0.3 millimeters with a .25 meter bounding box and 36 millimeters with a bounding box of three meters in size. Users can also use Scandy Pro's on-device editing for quick cropping, resizing, and more.
Before Scandy Pro, anyone who wanted quality 3D scanning had to spend thousands of dollars for high-resolution 3D scanners that are tethered to a computer, or settle for imprecise 3D scans from photogrammetry or structured light scanners on a mobile device. Now, powerful 3D scanning is pocket-sized, with Scandy Pro.
Scandy Core, a software development kit that is open to developers, allows Android devices to track and scan objects, resolving each frame of 3D data in an average of .32 seconds. Scandy Pro compiles and renders 3D scans in-app, usable for a variety of professional and consumer applications like AR/VR, CAD, or 3D printing.
Sign up to be a Scandy Pro beta tester or learn more about how to use Scandy Core in your next app at android3Dscanning.com.
See the app in action in the video below.