2017-06-02 12:45:49
Here's our monthly roundup of manufacturing expansions, mergers, and acquisitions by state. Don't see your state? Send your expansion, merger, and acquisition news to editor@mfrtech.com to be included in next month's round-up.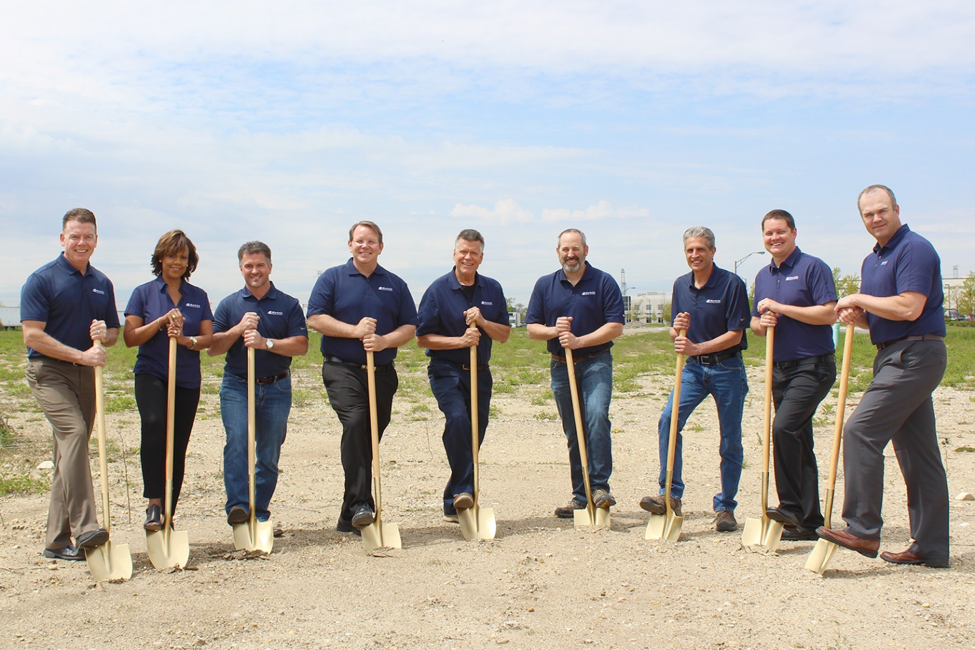 Photo: Executives from Matrix Design, LLC of Bartlett, Illinois, break ground on their new 50,000 square foot facility. [Source: Matrix Design, LLC]
Illinois
Matrix Design, LLC, a specialist in robotic automation systems, began construction on its new facility to be located at 1361 Schiferl Road, Bartlett, Illinois, about 10 minutes east of South Elgin. With the completion date of November 2017, Matrix will combine two locations into this 50,000 square foot facility.
CTS Corporation (NYSE: CTS) acquired Denmark's Noliac A/S, a designer and manufacturer of tape cast and bulk piezoelectric components, sensors, and transducers. Noliac serves OEMs in the aerospace & defense, test & measurement, medical and industrial markets.
Indiana
3rd Dimension, a contract manufacturer specializing in metal additive manufacturing for highly complex parts, will expand its operations in Indianapolis, creating up to 45 new high-wage jobs by 2022. 3rd Dimension will invest at least $804,200 to purchase new machines and bring its operations under one roof in central Indiana. The company currently operates in two facilities on Indianapolis' northwest side, together occupying 5,800 square feet.
Web Industries, a global supplier of flexible material converting and end-product manufacturing services, plans to expand its operations in Fort Wayne creating up to 45 new jobs by 2019. The 100 percent employee-owned company is investing more than $8 million to expand its current 110,000-square-foot manufacturing facility. Construction is currently underway to add an additional 50,000 square feet and is expected to be completed by the end of the year.
GECOM, a manufacturer of automotive door locking components, plans to expand its operations in Greensburg, creating up to 30 new jobs by 2019. The company, which is a subsidiary of Japan-based Mitsui Kinzoku ACT, will invest $26.29 million into its only U.S. production facility, launching three new manufacturing lines at its 403,550-square-foot plant.
Kentucky
Camtech Manufacturing Solutions LLC, a factory automation, machining and custom engineering services provider, will custom-build a new 16,200 square-foot headquarters in Science Hill. The new facility will provide more than twice the production and engineering space as its previous building in Somerset and nearly four times the office space.
Valvoline Inc. opened its new company headquarters, a $35 million office on Valvoline Way off Palumbo Drive. The four-story, 162,400-square-foot building houses the majority of Valvoline's approximately 700 Lexington employees.
Kobe Aluminum Automotive Products LLC (KAAP) will invest more than $51 million in its Bowling Green facility, creating 129 full-time jobs. KAAP will add more than 108,000 square feet to accommodate new production lines and equipment, including a melting furnace, forging presses and heat-treatment, casting and machining lines.
With a nearly $7.5 million investment, TG Automotive Sealing Kentucky LLC (TGASK) plans to install an air-conditioning system, add new manufacturing lines and provide employee-training programs at its Hopkinsville operation.
Tri-Arrows Aluminum Inc., which supplies rolled aluminum sheet for beverage cans and automotive uses, will invest $125 million to locate a cold rolling mill at Logan Aluminum Inc. in Logan County, creating 60 jobs in Western Kentucky.
In the northern part of the state, Nucor Steel Gallatin Mill will build a galvanizing line at its mill in Ghent with an estimated $176 million investment creating 75 full-time jobs. Nucor Steel Gallatin, a mainstay of the state's primary metals industry, produces rolled steel sheet used in various automotive applications, agricultural equipment, energy and other consumer products.
Louisiana
BARTON International, a supplier of garnet abrasives, completed expansion of its Port of South Louisiana warehouse and processing center. The project nearly tripled its storage footprint.
Michigan
Speyside Equity Fund I LP has acquired Avon Gear Company, which designs and produces large, complex, precision parts for heavy equipment industries.
Michigan-based Whirlpool opened its new EMEA (Europe, Middle East and Africa) headquarters in Pero, Italy. The building will accommodate more than 600 employees from 28 countries.
A.Raymond Corporate North America, Inc., a subsidiary of Grenoble, France-based A. Raymond Network, plans to construct a new North American headquarters in the city of Rochester Hills. The company develops, manufactures and markets fastening and assembly solutions. Supported by a $600,000 Michigan Business Development Program performance-based grant, the project is expected to generate a total capital investment of $17.3 million.
Comau, LLC, a member of the FCA Group, plans to expand at its three Michigan facilities located in Southfield, Royal Oak and Novi, investing $1.5 million and creating 200 jobs.
GEDIA Michigan, Inc. is a subsidiary of German company GEDIA, has acquired a facility in Orion Township, the company's first investment in the U.S. The facility will serve as GEDIA's U.S. headquarters. The project will generate a total capital investment of more than $21.9 million and create 78 jobs, resulting in a $500,000 Michigan Business Development Program performance-based grant.
The Sherwin-Williams Company (NYSE: SHW) completed its divestiture of the assets related to Valspar's North American Industrial Wood Coatings business to Axalta Coatings Systems (NYSE: AXTA) for $420 million in cash. Sherwin-Williams divested the business as a result of the regulatory reviews by the United States Federal Trade Commission and Canadian Competition Bureau of the acquisition of Valspar by Sherwin-Williams.
Minnesota
Cargill has purchased Arkansas-based BioBased Technologies' vegetable-based polyol product line, Agrol,® and other assets. BioBased Technologies develops soybean-based polyols that replace petroleum-based polyols enabling manufacturers to create more sustainable products for their consumers.
North Carolina
Aquionics, a provider of ultraviolet (UV) disinfection technology to industrial, aquatic and municipal water and wastewater markets, has opened a new sales and support center in Charlotte, North Carolina.
Ohio
The Timken Company has acquired PT Tech, Inc. and AeroTorque Corp, formerly subsidiaries of the EBO Group. PT Tech is a designer of industrial clutches, brakes, and power take offs used in specialty equipment for the mining, wood waste recycling, aggregate processing, metal processing, and wind power industries. AeroTorque focuses on damping of damaging loads in wind turbine drivetrains. EdgePoint Capital served as the exclusive financial advisor to EBO Group.
SlewPro, a precision manufacturer of slewing rings and drives, and related products, has acquired the assets of Rhino Gear, a provider of steel pinions, gears, pulleys, sprockets, splines, and custom broached internal shapes. SlewPro will continue to use the Rhino Gear brand following the acquisition.
Pennsylvania
Interface Performance Materials, a global designer and manufacturer of advanced materials, sealing solutions, thermal management systems, and specialty products, has entered into an agreement to acquire a materials manufacturing facility in North India. Once upgraded, the new facility will improve the company's ability to serve the Indian, Middle Eastern, and Southeastern Asia markets by reducing lead-time, which improves inventory turns for customers while also controlling freight costs.
Tekni-Plex, Inc. has acquired the assets of BrunaSeals, a Doral, Florida producer of induction seals and foam closure liners for beverage, cosmetics, pharma and household and industrial chemical products. Going forward, BrunaSeals will become part of Tri-Seal, Tekni-Plex's global closure liners business unit.
Speyside Equity Fund I LP acquired Ashland Foundry and Machine Works, Inc., West Coast Stainless Products, and Dynatek Inc.
South Carolina
BAE Systems Inc., which provides support and service solutions for current and future defense, intelligence and civilian systems; is expanding its existing operations in Aiken County. The company is projected to bring $8.4 million in new investment and create more than 120 jobs.
Tennessee
Frazier Industrial Company will build a new manufacturing facility in Dyersburg. The structural storage racking system manufacturer will invest approximately $17.4 million and create 120 new jobs in Dyer County.
Automotive supplier, Topre America Corp., will invest approximately $38.2 million to expand operations at its manufacturing facility in Smyrna.
Virginia
IR Engraving, a designer and builder of engraved rolls and plates, gravure rolls, and custom machinery, will invest $850,000 to expand its manufacturing operation in Henrico County to meet increased demand. The project will also create 22 new jobs.
Karn Custom Woodwork (KCW), an architectural millwork manufacturing and installation company, will invest $2.55 million to expand its headquarters and manufacturing operation in the City of Richmond.
Eastman Chemical Company, a global advanced materials and specialty additives company, will invest $11.7 million to expand its manufacturing operation in Henry County. The company will add a new equipment line within its Performance Films business.